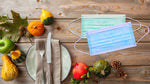 Temperature goes low and days get more limited: Winter isn't coming… it is here now! Taking care of your diet during this phase could yield desired results.
With winter, comes a variety of fresh fruits. If you visit the supermarkets, you can feel the vibrant colours of the fruits gazing back at you.
One thing that we are continually undervaluing is 'healthy eating' during these troublesome times. Also, luckily, this season comes with a bunch of yummy and healthy fruits that can help boost our immunity during winter. But with such countless seasonal fruits, you need to know which ones are the best for your health.
It can't be denied that probably the greatest challenge this year was building immunity. From fruit juices to green tea, what didn't we include in our eating routine just to keep the viruses under control and infections at bay? Presently, with the abrupt shift in season, we remain at a pivotal point once more. The nippy weather is certainly attractive however it additionally brings along the danger of seasonal ailments we are well mindful of (cold, flu, influenza). Dealing with your eating regimen during this stage could yield wanted results; luckily, the season is likewise associated with a lot of yummy and healthy fruits that can make the choice simpler. You can get into the raw, mix them in smoothies, make yummy snacks. There are alternatives aplenty.
Crunchy, sweetish, and tasty, guavas are our undisputed top choice this season. They are stacked with vitamin C and a range of antioxidants that fight dangerous free radical activity and prevent cell damage. They are also high in fibres making it excellent for your heart and blood sugar level. Green, crunchy guavas are back in season and we cannot be more joyful. A large group of advantages further makes this natural fruit a general top choice.
Macrobiotic Nutritionist and Health specialist Shilpa Arora say, " Guavas are a low GI fruit and do not raise glucose levels. It is the best fruit for hormonal balance. Diabetics and heart patients can likewise appreciate this nourishing fruit.
Some of the medical advantages of Guava include:
Check out our delicious healthy snack with guava and banana: BANANA BROWNIES with Guava. Tastes like bright berry flavours with caramelized banana undernote!
2. Pears
This tasty fruit has a light green, delicate exterior and a white delicious and fragile flesh. Hit among the children and adults the same, pears are useful for your gut and are enriched with mitigating properties and cancer prevention agents like nutrient E and C.
3. Oranges
A colossal source of both vitamin C and calcium, citrus fruits like oranges could ward off the danger of seasonal diseases and oversee the side effects of numerous chronic conditions. If you are an enthusiast of a fresh glass of squeezed orange, this is maybe a decent an ideal opportunity to begin juicing.
4. Apples
An apple daily might be a smart idea again this season. Apples can fortify the immune
system by lessening inflammations in your body. Plentiful in gelatin fiber, vitamin C, and K, apples are viewed as great for immunity building by numerous vitamins.
5. Mosambi
Mosambi or sweet lime again comes from the citrus group of oranges and pomelos. Plentiful with vitamin C, this yummy natural product can be squeezed as well. It is encouraged to drink the unstrained juice to ensure you don't miss out on fundamental fibers.
6. Pomegranate
Ruby red and sweet, pomegranates have defensive advantages against free radicals. Additionally, it diminishes our blood which is useful for our BP, heart, weight reduction and forestalls skin harm.
7. Plum
Plum is a fortune of sickness battling antioxidants, to such an extent that it is likewise being read for its cancer battling abilities.
8. Cherimoyas
Chirimoya, called cherimoya or custard apple in English, is a delicious tropical fruit native to South America. Cherimoyas are green heart-shaped fruits with bumps on the outside that are scaly in texture. In general, their size is pretty standard, large apple-sized fruits, but some can grow to be 4 inches in diameter and 8 inches long. The inside is white, juicy and fleshy, with a soft custard-like texture and large black seeds that look like beans. It is creamy and has a combined sweet, tangy, and sour flavor that most people describe as a combination of bananas, peaches, pineapples, and strawberries. Hard to describe, but needless to say, it is plain delicious.
Excessively sweet in taste, this natural fruit is an astonishing resistance boosting leafy foods that diminishes the danger of heart sicknesses, oversees glucose, and even treats skin inflammation.
9. Kiwi
This delicate and tangy fruit conveys an uncommon taste as well as a delightful green tone. Kiwis are stacked with nutrients like vitamin C which is all that you require to amp up your immune system. This natural product likewise controls pulse, forestalls blood coagulating, and even aids in improving vision.
10. Cranberries
From getting urinary plot contaminations securing your liver, cranberries are little in size yet large on advantages. These blood-red berries offer a sweet and tangy flavor alongside bringing down your blood pressure and also improving vision.
Summarizing
The key, with any eating regimen, is to be well-balanced. Attempt to set up a natural product plate of mixed greens every day and attempt to put as many winter fruits as you can to get the advantages of every one of them.
Don't forget that all seasonal fruits oblige the necessities of that specific season. For instance, the advantages of oranges are more suitable for winters than they are for summers.
You can likewise remember dates for your eating routine, as they keep your body warm and they contain a ton of calcium and iron which is incredible for those that are confronting anemia or have fragile bones.
Keep your immune system stronger during winters. Don't forget to use these above-mentioned fruits.