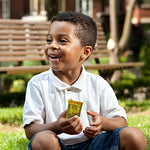 As a parent, you always want to make sure that the stuff you buy and use for your children is safe and the best that you can get. This is especially true and even more important when it comes to food. But how can you know if what you are feeding your kids is safe, healthy and good for them? You may get advice from many different sources, and there will be so many decisions to make.
Mothers usually carry snacks for kids in the stroller or the bag just in case they need them when they are out with their toddler. Snacks are fun and tasty for kids. Although most parents try to limit the number of snacks their child has because they think snacks are probably not healthy.
Children eat certain fruits and veggies during mealtime and sometimes they don't want them as a snack. If you always thought there must be better snacks out there, and we are not talking about healthy fruits or veggie sticks, Ipanema Valley got you covered. In this post, we share with you how unhealthy some kids' snacks can be and what organic snacks with better ingredients are available.
​ Non-organic food contains vegetables & fruits with chemical pesticides and meats with antibiotics or growth hormones. There are also preservatives, starchy fillers, thickening agents, artificial flavors or colors. Organic food can minimize your baby's exposures to these dangerous chemicals. Organic labels have to meet strict government standards and regulations for their organic food. When food is grown, processed, packaged and shipped, no synthetic pesticides, petroleum-based fertilizers, synthetic growth hormones, artificial colors, flavors or preservatives, no GMOs or ionizing radiation should be used. For meats, poultry and dairy products, no antibiotics or hormones are allowed. Also, the animals have to be fed only organic, vegetarian feed and live in an appropriate housing and conditions which doesn't jeopardize animals' health, safety, or well-being.
How Unhealthy Kids' Snacks Might Be
Here are some of the common unhealthy ingredients that are used in kids' snacks.
1. ENRICHED FLOUR
Often the first ingredient you would see in many products is enriched wheat flour. Whole wheat loses some of its nutrients while being processed. The flour producers put some nutrients back to it. Therefore, enriched flour is often fortified with a variety of vitamins and minerals. However, it still lacks some nutrients that whole wheat has.
2. RICE
Studies have shown that rice-based products such as rice cereals contain more arsenic or mercury compared to non-rice based products.
3. SHORTENING, PARTIALLY HYDROGENATED OIL OR HYDROGENATED OIL
Hydrogenated oil helps increase shelf life of the products or add texture. Manufacturers also use hydrogenated oil to save costs.
4. VEGETABLE OIL (SUNFLOWER, CANOLA OR SOYBEAN OIL, PALM OIL)
Cooking with vegetable oil such as sunflower, canola or soybean oil produces toxic chemicals which can cause cancer or other diseases.
5. HIGH FRUCTOSE CORN SYRUP (HFCS) AND SUGAR
High Fructose Corn Syrup is made from corn syrup. It is cheaper and sweeter than sugar. Sugar and HFCS both have high calories but have absolutely no essential nutrients. Actually, they are very unhealthy because they contain fructose.
6. MONOSODIUM GLUTAMATE (MSG)
Monosodium glutamate (MSG) is a food additive that enhances flavor. It is widely used in processed food. It causes the production of excessive amounts of dopamine in the brain.
7. SODIUM BENZOATE (E211) OR POTASSIUM BENZOATE
Sodium Benzoate (E211) or potassium benzoate are synthetic chemicals used as a preservative.
8. BUTYLATED HYDROXYANISOLE (BHA) OR BUTYLATED HYDROXYTOLUENE (BHT)
BHA was found to cause tumours in animals. It is classified as 'reasonably anticipated to be a human carcinogen' by the International Cancer Agency. They should be avoided.
9. ARTIFICIAL SWEETENERS
10. ARTIFICIAL FLAVORS
11. ARTIFICIAL COLORS
HEALTHY SNACKS FOR KIDS
Ipanema Valley is a source you can trust. We have listed some organic snacks with better ingredients below. Let's take a look!
BANANA BROWNIES
100% Plant-Based BROWNIES! Made from non-GMO bananas grown in the red soil banana farms of Brazil.
They are made from 100% organic ingredients. Our snacks are gluten free, dairy free, peanut free, nut free, soy free, trans fat free, sugar free, artificial flavors, preservative and colorant free. They are also vegan and non-GMO.
Wholesome, clean nutrition without any herbicides or pesticides. Our fruit is cultivated in nutrient rich soils under the highest agricultural standards.
Our unique cooking process, developed over 3 years, compresses 100 million fruit cells together. The result is a flavour experience you've never had before!
This snack has loads of fibre and potassium. Banana Brownies are 100% fruit and contain no wheat. Banana Brownies contain ZERO animal ingredients.
Take when you need a quick and easy boost! Each square is like a fruit in your pocket!
They come in different flavors:
1. BANANA BROWNIES – just banana
Tastes Like Caramelized bananas with echoes of cinnamon! YUM!
INGREDIENTS: 100% BANANA
2. BANANA BROWNIES – with Guava Tastes Like Bright berry flavours with caramelized banana undernote!
INGREDIENTS: BANANA AND GUAVA
3. BANANA BROWNIES – with Pineapple
Tastes Like A tropical fruit punch! The fibrous strands of the pineapple really come through for added texture!
INGREDIENTS: BANANA AND PINEAPPLE
4. BANANA BROWNIES – with Fig
Tastes Like Ginger bread enfused with caramel. The Fig is understated yet complex!
INGREDIENTS: BANANA AND FIG
BANANA SMOOTHIE BOWL BAR
Nature's Energy Source
More fruits, fewer grains, no syrups. It's better than a cereal bar, It's a Smoothie Bowl Bar!
1. BANANA SMOOTHIE BOWL BAR - with banana, passion fruit seeds and mango
2. BANANA SMOOTHIE BOWL BAR - with banana, sesame seeds and coconut
Organic, fresh, whole foods will be the best option for children's snacks. However, sometimes you need fun, healthy snacks that are not fruits or veggies for kids. Many ingredients in children's snacks are artificial and unhealthy. Therefore, we wanted to offer some snacks that are better with healthier ingredients. These snacks work great when you are on the go. The amount and frequency of snacks should be limited since kids should get nutrients from their meals. However, if snacks are needed sometimes, we can limit harmful chemicals and choose better ingredients in our kids' snacks. Every kid is different so one may not like certain brand products. Not one snack is perfect for everyone. Therefore, it is good to explore different healthy snack options and find snacks that fit your child's nutrition and taste.